Pappygate defense calls for tipster's information
In case you didn't see my article posted in The State Journal, the  alleged ringleader's defense calls for the anonymous tipster to be identified.
Yes, you read that right. The big "anonymous tip"
Attorney Whitney Lawson's motion to compel discovery argues that when the Franklin Commonwealth's Office gave him the anonymous tip that brought this whole thing down (mentioned here) — it wasn't everything he asked for.
Moreover, Lawson's motion has a grocery list of information. Some of it could be seen as reasonable defense approach to the soundness and validity of the text-a-tip operation.
Some of those items are :
• the phone numbers used to receive anonymous tips
• where is the phone maintained
• the individuals responsible for maintaining and responding to the tips
• all persons who have access to said phones
The contentious requests include:
• the phone number(s) used to send the anonymous phone call (s) or text message(s)
• the name and address of any and all individual (s) who made anonymous calls or texts
AND IF THAT WASN'T BOLD ENOUGH TO NOT PUT IN ALL CAPS
• the phone record(s) of any and all phone(s) used to make or send anonymous phone call(s) and text message(s)
In my article at The SJ you will read where Lawson argues that Curtsinger should have the caller's or caller's information as Sheriff Pat Melton doesn't use a third party to scrub the anonymous numbers.
But in case you don't know, you are not anonymous even when you call 911 and request to make an anonymous report. Just an FYI. 
The anonymous text was renamed 

Here's a pic of original text in the court records, the text that led to uncovering this whole Pappygate blow up .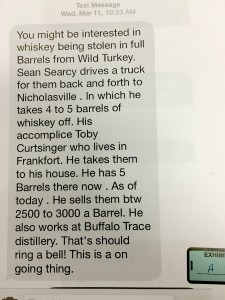 Another request Lawson has made is any recorded/written statements from Tony "Onion" Bryant.
Lawson's motion argues that there are no statements from Bryant only police statements.
It took me ALL DAY to find it my huge pile of court docs , but Bryant only has one small chunk, paragraph in them.
Here it is in its entirety.
Wyatt interviewed Todd "Onion" Bryant at his home in Lexington. Bryant stated he knew Curtsinger from softball. Curtsinger had often given him whiskey in plastic jugs. He stated he had often bought steroids with Curtsinger and Wells (former Frankfort police officer) going in on bulk orders. Bryant stated he had heard rumors that Searcy and Curtsinger were involved in selling barrels of whiskey. 
Is Lawson just doing her due diligence in flushing out anything on Bryant? Why is she sniffing it out? Does she think they haven't given up the goods on Bryant or is he just the only left out of those 20-something recorded interviews and written statements?
The Franklin Commonwealth's Attorney Office filed its response today to Lawson's motion.
The Commonwealth's response is both similar to what we could assume the public's response would be to revealing an anonymous source out of concern for their safety and any future protection they provide to an anonymous source.
Assistant Commonwealth's Attorney Zach Becker's response argues, overall that it would be "detrimental to additional criminal investigations by the sheriff's office" notwithstanding the response argues that it would be a violation of Kentucky Rule of Evidence."
The response argues two larger points (all quotes are from the response document)
• If the court ruled in favor of disclosing the anonymous tipster's information, it would "not be applied solely to the facts of this case, but will necessarily impact all other criminal cases and investigations arising from its jurisdiction"
•If the court follows " the logic of the defendant… the law-abiding citizens of Franklin County," would be "left with two equally unpalatable choices, either to do their civic duty as law-abiding citizens and thereby place themselves and their families directly in harm's way or simply learn to ignore and embrace criminal activity in their community."
Here's the link to my story today in The State Journal.