March 7, 2016 Bevin releases misleading video of House Democrats on his official Governor Facebook page
Republican Gov. Matt Bevin released a misleading video Monday on his official Facebook page criticizing House Democrats and Speaker Greg Stumbo for not presenting a budget yet in the 2016 Legislative session.
With the governor.ky.gov title on the video, Bevin acted as if viewers needed to be quiet as he stepped into the House chambers.
Given neither the Senate nor House convene until 2 p.m. or 4 p.m. during the week except for 9 a.m. on Fridays, Bevin omitted the information from viewers and  instead acted sarcastically surprised.
"It is 11 o'clock on a Monday. There is nobody in here…There's not a soul in here except me. What are people doing?" Bevin asked. "You are paying all of these people to work."
House Democrat Rick Rand who chairs the House Appropriations and Revenue Committee, told The State Journal the House was still on schedule saying The House typically has a budget ready by the middle of March.
Kentucky Democratic Chair Rep. Sannie Overly of Paris didn't hesitate to fire back issuing pictures and a candid statement Monday afternoon.
"Either Gov. Matt Bevin doesn't know how the process works, or he was trying to distort the truth and mislead people with his video today on social media," said Overly.
"While Gov. Bevin was trying to be the star of his own phony reality show at the wrong place, House lawmakers were heading to work in the Capitol Annex, where committee meetings happen every day during session."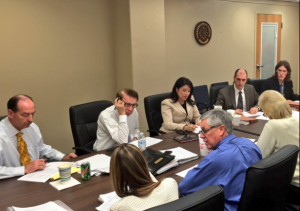 The Kentucky Democratic Party released a picture showing House members meeting at noon Monday and a picture of "Gov. Bevin's empty staff parking lot at 8 a.m."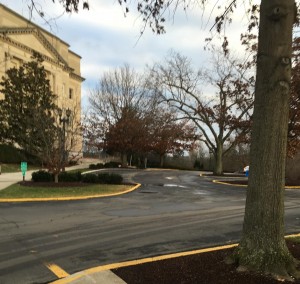 Nov. 16, 2015,   Governor-elect Matt Bevin joins other state governors in refusing Syrian refugees
Republican governor-elect Matt Bevin released a statement saying he would oppose Syrian refugees resettling in Kentucky until the risk they pose to Americans can be assessed.
"The recent terrorist attacks in Paris serve as a warning to the entire civilized world that we must remain vigilant," Bevin said in  a released statement.
"It is imperative that we do everything in our power to prevent any similar attack by evildoers from taking place here in America."
On the back of a Syrian passport recovered from one of the suicide bombers in Paris, many governors in the U.S. have unified saying they will block Syrian refugees from settling in their states.
Through their investigations, French authorities have tracked the planning of the attacks to Belgium, but have not confirmed the Syrian passport belonged to the bomber.
"My primary responsibility as governor of Kentucky will be to protect the citizens of the Commonwealth," Bevin said. " This is why I am joining with other governors across the country in opposing the resettlement of Syrian nationals until we can better determine the full extent of any risks to our citizens."
Per Bevin's statement, Kentucky would join other states including neighboring Indiana and Illinois and include other states such as Michigan, Mississippi, North Carolina, Texas, Alabama, North Carolina, Wisconsin, Massachusetts and Alabama.
Current Kentucky Gov. Steve Beshear issued a statement  saying the Paris attacks were "a tragedy and all civilized countries need to come together to make sure violence like this doesn't happen again.
Beshear said Kentucky will follow federal immigration guidelines will screen those who are looking for a safe haven.
"In terms of the impacts of this violence on refugees–these are women and children and people who are in desperate need and if America needs to help out, we will help out."
Beshear added that "we have to be very careful and make sure we screen people so we only bring folks into the United States who are truly looking for a safe haven."
Sept. 1, 2015 Beshear says he won't spend taxpayer money and call for a special session for three county clerks who oppose same-sex marriage. 
"There are obviously strong feelings on both sides of this issue, but the United States Supreme Court has spoken and same-sex marriage is now legal in Kentucky and the rest of the United States. Regardless of whatever their personal feelings might be, 117 of our 120 county clerks are following the law and carrying out their duty to issue marriage licenses regardless of gender. Same-sex couples are now being married in Kentucky and such marriages from other states are now being recognized under Kentucky law.
The future of the Rowan County Clerk is now in the hands of the courts. The legislature has placed the authority to issue marriage licenses squarely on county clerks by statute, and I have no legal authority to relieve her of her statutory duty by executive order or to remove her from office.
The General Assembly will convene in four months and can make any statutory changes it deems necessary at that time. I see no need to spend hundreds of thousands of dollars of taxpayers' money calling a special session of the General Assembly when 117 of 120 county clerks are doing their jobs." – Gov. Steve Beshear.
My article from today  featuring comments from the opposing clerks can be found here.
Aug. 8,2015 — Attorney General announces Carrollton police chief and officer indicted for putting mentally disabled inmate on bus to Florida
Even the chief of police can't just put someone on a bus.
Today Attorney General Jack Conway announced with his Office of Special Prosecutions that the Carroll County Grand Jury has indicted Carrollton Police Chief, Michael S. Willhoite, 48, and Carrollton Police Officer Ronald W. Dickow, 50, on charges for allegedly taking a mentally disabled inmate to Louisville and placing him on a bus to Florida.
The grand jury indicted both men with complicity to commit kidnapping, complicity to commit custodial interference and complicity to commit official misconduct charges.
According to the indictments, in April of this year Willhoite and Dickow restrained Adam Horine with the intent to interfere with the "performance of a governmental or political function" while he was an inmate in the Carroll County Detention Center.
Both Willhoite and Dickow, according to the indictment, knowingly took Horine out of custody and kept him from the lawful custody of Eastern State Hospital mental institution.
Both law enforcement officers committed an unauthorized exercise of official functions and/or they refrained from performing an official duty when they violated a judge's court order to transport Horine to Eastern State Hospital.
Charges include: kidnapping, a Class-B felony; custodial interference, a Class-D felony and official misconduct a Class-A misdemeanor.
A court date is set for Dec. 1.
Aug. 4, 2015 — A new chapter
Before it gets out of hand with speculation and rumor,   Boone Newspapers Inc. has signed a letter of intent with Dix Communications to buy The State Journal.
Our newsroom will release a story, our story so nothing is taken out of context.
Here's the official comment :
Dix Communications announced today the pending sale of Frankfort, Kentucky, Publishing Co., which publishes The State Journal and its related web sites and publications to Boone Newspapers, Inc. of Tuscaloosa, Alabama.
"We are happy for our employees and the community to have a buyer such as Boone that shares our journalistic values and dedication to publishing and the Frankfort community.  This is a good buyer that has the wherewithal to carry this publishing unit into the future," said G. Charles Dix II, President of Dix Communications, owner of The State Journal.
"Boone and Dix have signed letters of intent and are moving towards the completion of a purchase agreement."  Both companies are working toward closing the sale on or around Sept. 1.
"We will be using the proceeds from the sale to reinvest in our geographic core of properties in Eastern Ohio, growing our ad agency, Full Spectrum, and diversifying through acquisition," said Ann Dix Maenza, State Journal publisher.
July 16, 2015 — Sabato's crystal ball leans Republican for governor race
The University of Virginia's Center for Politics via Larry Sabato's Crystal Ball has spiraled to the right favoring Republican nominee Matt Bevin for the governorship.
Despite Kentucky's trend to elect Republicans at the federal level but keep a Democrat in the governor's seat, Sabato's predictions say that could change.
While tying the Obama liberal agenda to Jack Conway's ankle is the same playbook strategy Republicans have used nationwide, and doesn't bring anything new to the voters' table, the center said after eight years of Democratic control voters will
"probably be more open to a "change" message, which Bevin is better positioned to offer.
Moreover, the national Democratic brand in Bluegrass Country is toxic. President Obama is wildly unpopular, and in recent federal elections Democratic candidates have struggled to win many votes outside of Jefferson County, home of Louisville, the state's largest city and most Democratic area."
But just as boldly as the ball may spin, it also teeters on caution.
Bevin's campaign, the center said has been mostly self-funded and he will most likely kick more money in.
Still being portrayed as the sore loser to McConnell, Bevin "has a track record for making mistakes, such as appearing at a cockfighting event during the GOP Senate primary. If this weren't the Obama era, we would be inclined to leave the race as a Toss-up; at this point, we're certainly not willing to go beyond a "leans" designation."
The same-sex marriage issue may give Bevin leverage to, using the same playbook, tie Conway to national politics given Conway backed out of defending the state's same-sex marriage ban.
"In 2012, Obama won 38.5% of the two-party vote in Kentucky, just 27.3% in the Appalachian counties and 42.1% in the rest of the state"
The full prediction here includes that Obama remains unpopular in our state's Appalachia region, which is no surprise to Democrats either where the brand has suffered among Democratic conservatives.
July 9, 2015 — Retired coal miners offended by pro-Bevin ad using Mexico mine footage 
Retired Kentucky coal miners spoke out Thursday against the footage of miners in Mexico purchased and used by the Republican Governors Association's in the first gubernatorial race campaign ad attacking Democratic candidate Jack Conway.
The inverted three-second clip in the ad showing workers walking through a mine and footage information lists Mina El Nopal in Guanajuato, Mexico as the location. The footage can be bought for $97 online here  and was created November 2013.
The State Journal reached out to the RGA Communication Director Jon Thompson and asked him why the RGA used footage of Mexican miners for an attack ad against Conway.
Thompson replied in an email that "nothing in the ad changes the facts about Jack Conway's record of supporting Barack Obama's liberal policies that would kill jobs, drive energy costs higher and hurt Kentucky families."
Full story here at The State Journal
July 7, 2015 — Gov. Beshear says take a deep breath
Gov. Steve Beshear issued a statement Monday night saying he will not call for a special session despite two county clerks who have religious conflicts issuing same-sex marriage licenses.
Less than two hours after the Senate leadership released a statement saying it would be appropriate for the governor to issue an executive order given the Supreme Court's contentious ruling, Beshear issued his own statement saying it is time for everyone to take a deep breath.
"There are obviously strong feelings on both sides of this issue, but the United States Supreme Court has spoken and same-sex marriage is now legal in Kentucky and the rest of the United States," Beshear said in the statement.
"Regardless of whatever their personal feelings might be, the overwhelming majority of county clerks are following the law and carrying out their duty to issue marriage licenses regardless of gender, and the courts will deal appropriately with the two or three clerks who are acting otherwise."
Beshear said his administration continues to find statutes which require a new interpretation after the ruling and will make the appropriate changes.
He pointed out the Department of Revenue has issued new tax guidance rules in the state which includes allowing members of a same-sex marriage who were legally married in another state to claim taxes paid within the last two years at this link http://revenue.ky.gov/
Breathe
"It's time for everyone to take a deep breath. There is no need to spend $60,000 a day of taxpayers' dollars calling a special session of the General Assembly, and therefore I will not be calling a special session on this topic," Beshear said. "If there are any minor changes needed to clarify the language of statutes, any such changes can be made in the 2016 legislative session in January."
July 7, 2015 — Senate Leadership asks for temporary stay
The Kentucky Senate leadership released a statement Tuesday afternoon asking Gov. Steve Beshear to issue a "stay" or executive order for county clerks issuing same-sex marriage licenses.
Issuing a released statement Tuesday afternoon, the Senate leadership said the body has explored options for a solution for  two Kentucky county clerks, Kim Davis of Rowan County and Casey Davis of Casey, who refuse to issue marriage licenses.
Claiming religious liberties are an important part of "Our Republic" and that all statutory options should be looked at.
The statement suggests Gov. Beshear could make an executive order until lawmakers convene for the 2016 legislative session.
SENATE LEADERSHIP ON COUNTY CLERKS, RELIGIOUS LIBERTIES AND SCOTUS DECISION: 
"The Senate has been exploring options to address the situation that our county clerks and religious institutions find themselves in due to the actions of the Supreme Court. Religious liberties are an important part of the basis of our Republic and all statutory options available should be considered. This is a very complex issue and perhaps it would be appropriate for the Governor to issue a temporary solution via executive order until the Legislature can craft a more comprehensive solution in January."
July 6, 2015 — Casey County Clerk visits governor
Casey County Clerk Casey Davis visited Gov. Steve Beshear's office Monday without an appointment asking for relief from issuing same-sex marriage licenses because the practice conflicts with his religious beliefs.
The governor, however, was in Louisville.
Davis told The State Journal after celebrating the Fourth of July he had an inspirational moment.
"I've never cried over fireworks before but when they went off in Liberty I had a change of heart," Davis said. "The part of our national anthem that talks about the bombs bursting in air and how our flag was still there made me think of how those men and women were persecuted (during the American Revolution) and homosexuals have been afforded their rights and I am afforded mine."
Davis attended a prayer rally in support of his stance not to issue same-sex marriage licenses at the old courthouse in Liberty before traveling to Frankfort.  A 14-year-old boy, Davis said, sent him a letter and thanked him for not doing something against his religious beliefs.
According to Casey County News Editor Larry Rowell, several hundred supporters gathered for Davis and shouts of "amen" could be heard as local preachers spoke against the Supreme Court ruling.
Rowell reported Davis told the crowd he was going to Frankfort to discuss with Beshear his right to be opposed to same-sex marriage.
"I've pleaded for the governor to give me relief and I have not gotten a response," Davis said. "I want him to call a special session about it. My solution would be to, what everyone else has called the 'law-of-the-land,' is have an online issuance for marriage licenses so that it takes it out of the hands of the individual."
Online portal
With an online marriage license portal, Davis said he could perform his job without it conflicting with his religious beliefs.
As of Monday, Davis told The State Journal he had three or four inquiries by phone, but no requests made in person, and by not issuing any marriage licenses he felt he wasn't discriminating against anyone or that he "was not being hypocritical. I've always treated people fairly and I don't agree with same-sex marriage."
Casey County Attorney Thomas Weddle told The State Journal his position is clear. "I have the greatest respect for Casey Davis, but he's in the wrong on this issue."
Weddle said in light of the Supreme Court's decision, Casey needs to find a deputy clerk in his office that will do the job or Casey is subject to removal from his position as county clerk.
"I'm in agreement with (Attorney) General Conway's opinion that the remedy is civil in nature and it is not a criminal offense," Weddle said. "I think it is a private matter and it depends on how you construe the penalty section (of the statue)."
Beshear was in Louisville meeting with CEOs from Aetna and Humana. Beshear's Chief of Staff Larry Bond met with Davis and a future meeting is planned.
Full story here at The State Journal
July 2, 2015 — State lawmakers says Virginia should pay 
State senators and representatives put the Division of Water to task last week over a Virginia wastewater treatment plant spilling sewage into Kentucky's waterways since early March 2015.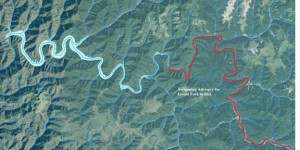 They say the neighbor's passage of pollution into eastern Kentucky is unacceptable.
Rep. Jim Stewart, R-Flat Lick, asked Peter Goodmann, director of Division of Water, Energy and Environment Cabinet what had been done to resolve the spilled sewage during the Interim Joint Committee On Natural Resources and Environment Thursday at the Capitol Annex.
The Kentucky Division of Water was only notified in May that a Buchanan County Public Service Authority wastewater facility in Virginia had been discharging untreated wastewater directly into the Levisa Fork since early March.
The Kentucky DOW and the Kentucky Department for Public Health issued an advisory for swimmers in the Levisa Fork of Fishtrap Lake in Pike County from the Virginia state line at river mile 126.4 to river mile 114.8 — the headwaters of Fishtrap Lake — after finding high levels of E. coli in the river on June 12.
"Did we settle it with a fine or a handshake? What did we do?" Stewart asked.  "I just know when the coal mines have a silt pond that breaks or something they put a levy on them. So I just assume we levy a fine on them (when) they dump that raw sewage on us."
The advisory was lifted two weeks later, but according to Minority Floor Leader Sen. Ray Jones, D-Pikeville, the incident is indicative of neighboring Virginia's poor practices along its shared border with Kentucky.
"There's a moniker that some people refer to it as 'Trashtrap' because so much garbage comes in from Virginia into Kentucky," Jones said. "It basically ruins Fishtrap Lake for any purpose of recreation or tourism development. It's inexcusable that we have this type of sewage situation — whether it's contaminated the lake with E. coli or other bacteria is irrelevant — because the public perception is that the lake is being contaminated and it's unsafe to swim."
Jones asked Goodmann when was the last time he had visited Fishtrap Lake in Pikeville and invited him to call his office and arrange a visit.
"It's disgraceful that this problem went on as long as it did where raw sewage was coming into Pike County," Jones said. "It's not the only problem we've had."
Jones said the owner of the marina on the lake was quoted in a local paper for losing business. People are reportedly afraid to swim in the water.
"My question is why has the Division of Water not taken some action to address this trash problem with Fishtrap," Jones said. "The last time I was on the lake, it's been a few years, there was so much trash in it you had to worry about taking your boat on it."
Goodmann agreed he would arrange the visit, talk to his counterpart in Virginia and the U.S. Army Corps of Engineers to devise a strategy.
"In the 15 years I've been here, we've not been able to get anything done. Part of that is the Corps' fault," Jones said. "The Corps has taken the approach that the lake serves a flood-control purpose and not really a recreational or tourism purpose. It's really appalling for someone to come in and see the condition of that lake."