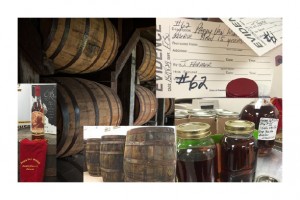 I'm a former political reporter from The State Journal in the capital city of Frankfort, Kentucky. Contact me at brdbowman@gmail.com
I usually wrote about legislation, state lawmaker spin, campaigns and the soap operas churning in Kentucky's politics.
This has been a place for me to put down my reflections and notes about what could be my first nonfiction book.
This case fell into my lap.
This blog is a part of my journey On The Bourbon Trail, the Pappygate scandal and the turns and twists in the investigation so far.
I filled in the day the Franklin County Sheriff's Office gave a press conference announcing they had indicted nine individuals in a bourbon/steroid crime ring which was dubbed "Pappygate," by national media for  the large amounts of valuable Pappy Van Winkle stolen from the distillery.
Detectives recovered bourbon barrels from Wild Turkey Distillery, Buffalo Trace Distillery and cases of the coveted Pappy Van Winkle Bourbon of various ages worth thousands of dollars. Overall, the commercial value of all bourbon stolen easily exceeds $1 million.
The ring involved the coordinated theft and sale of bourbon and an online international steroid purchasing scheme. And this was just the beginning of the case…
The players are dynamic, dramatic and it makes for a damn good story — nobody could make this up.
If you want to read this chronologically, start with the earliest blog entry here