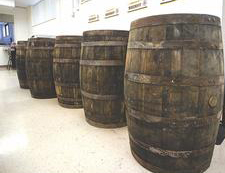 Starting on The Bourbon Trail
It obviously started with betrayal.
A burned lover, an estranged ex-wife or someone shorted in a pay off sent a text-a-tip to the Franklin County Sheriff's Office and blew the lid on the biggest bourbon heist in Kentucky's history.
In March 2015, sheriff detectives would receive an anonymous tip that Gilbert "Tony" Curtsinger had several barrels of stolen bourbon behind an outbuilding on his property.
Five barrels of  stolen Wild Turkey were found hidden under a tarp where the anonymous tipster said they would be.
Detectives secured the area as another search warrant was executed from the Franklin County Courthouse to enter the home.
Once inside, detectives found $3,500 cash, 20 guns and two silencers.
On his wife Julie Curtsinger's nightstand there were crushed up anabolic steroids in a baggie inside a  heart-shaped jewelry box. She is an instructor with her own  local fitness bootcamp studio.
Law enforcement would find a total of four different types of illegal steroids in the home and more than 100 needles to use them.
The search and seizure delivered more than just surprise and spoils.
It garnered just as much attention as the unsolved 2013 Pappy Van Winkle theft estimated to be several thousands of dollars worth of bourbon.
What detectives and the Kentucky Attorneys General's Cyber Crimes Unit would find on Toby Curtsinger's cellphone would bust everything open.
Down the trail…
The tip would reveal
an alleged crime ring involving the theft, storage and sale of bourbon from Wild Turkey and Buffalo Trace distilleries.
The tip would reveal
an international online steroid purchasing scheme allegedly involving at least the Curtsingers, a Frankfort city police officer and another law enforcement officer.
The tip would reveal
a long strained relationship between a sheriff's office and city police.
What's later down the trail ?
The mayor would request an independent investigation into the city's police department.
While on vacation, the Frankfort police chief  posted claims on social media that the sheriff was motivated by political fallout on the department's Facebook page.
Co-defendants would turn into witnesses and the case has only begun.