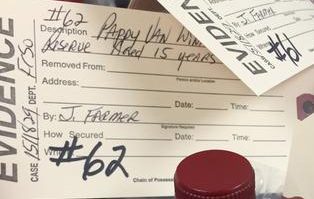 It didn't take long to figure out why former Frankfort police officer Mike Wells resigned amid accusations of steroid use.
Just a week after Wells resigned, investigation documents revealed he admitted to detectives about purchasing steroids.
After wading through more than 80 pages of documents, it looks like he came clean with investigators and in the process spilled some dirt.
Wells said he and several others pooled their money together for purchasing steroids, bought a money order and would purchase them online from vendors overseas.
If it didn't look bad enough when Wells, a police officer, admitted to purchasing steroids with alleged bourbon/steroid crime ring leader Toby Curtsinger, another officer — Kentucky State Police Vehicle Enforcement Office Steve Oliver was involved as well.
Oliver admitted to detectives he purchased the steroids too.
If you are keeping score, this investigation so far (as far as I have written here) involves two distillery workers and two law enforcement officers.
Unlike Wells who resigned, I tried several times to get a statement from the Kentucky State Police about any disciplinary actions against Oliver.
A public information officer told me KSP would launch their own internal investigation into Oliver's steroid use.
For the record, I asked KSP for a statement again earlier in June and received no further details about the incident. Oliver admitted his involvement by at the very least the beginning of April.
There's also another KSP officer I asked about whose name came up in this investigation, but I'm saving that detail for later.
Another officer, another bottle of bourbon
During his interview with law enforcement, Wells told investigators something else no one has pinned down.
Without any word spoken with malice, any foul-smelling hint of  vendetta or revenge in his testimony, he said five to seven years ago he gave a bottle of Pappy Van Winkle signed by the master distiller to the Frankfort Police Department's Major Rob Richardson.
In two separate accounts of the incident, he said he approached "ringleader" Curtsinger about getting a bottle for a fundraiser.
Not just any fundraiser though. The bottle was for a law enforcement fundraiser.
While as acting president of the Kentucky Tactical Officers Association, Richardson allegedly, most likely unknowingly to him, received this valuable, stolen bottle of Pappy Van Winkle signed by the master distiller.
I contacted Buffalo Trace Distillery and they have no record of giving the donation.
When he gave the bottle to Richardson, Wells said the major thought it was nice, he would keep it for his personal collection and would replace the donation with something else.
Wells said he never saw the bottle again.
Given Wells hasn't been charged for his part in the crime ring, one could assume he is under an agreement with the prosecutor's office. Moreover, if in any way it could be proven he has given false testimony, he would jeopardize the agreement.
Why would he make it up?
His testimony on every other account in the investigation has proven true.
Chief Abrams : no bottle, not on the taxpayer's dime
In my last post, I included the video I shot of Frankfort Police Chief Jeff Abrams saying the allegations of any additional FPD officers involvement in the steroid and bourbon theft are unsubstantiated.
When I asked him about Richardson, he stood by his statement.
"No one can specifically remember that and Major Richardson has no recollection of receiving it nor does he have it," Abrams said. "We have accepted donations in the past from various vendors but a signed bottle  would definitely jar the memory."
Abrams has stood firm on that and will mention the incident again in an entry I will write later.
Abrams also admitted to something else.
In the detectives' investigation summaries, they wrote "it was determined that Franklin County Sheriff Pat Melton should meet with Abrams to make arrangements for investigators to meet with Wells.
Melton spoke with Abrams who advised "he did not want to be put in the middle of this investigation and would not order Wells to meet with Wyatt(Chief Deputy Wyatt of the FCSO)."
Chief Abrams confirmed the report was accurate and Sheriff Melton wouldn't tell him the circumstances of questioning Wells, as it was part of an open investigation.
"He didn't feel he could divulge the information and I said I would stay out of it and suggested they meet when Wells was off duty," Abrams said.
"I wasn't trying to keep them from talking to him. When I knew what they had and what they needed, I suggested they talk to him when he was off duty and not on the taxpayer's dime."
Later On The Bourbon Trail
Investigation documents will reveal how the bourbon was allegedly taken for several years, how it was stored and how other people went about selling it.
I appreciate you reading. Next time you visit, make a drink. I get thirsty just writing about bourbon.